When:
May 25, 2017 @ 7:00 pm – 9:00 pm
2017-05-25T19:00:00-05:00
2017-05-25T21:00:00-05:00
Where:
Community Cooking School, 2nd Floor inside Broadway Armory Park
5917 N Broadway St
Chicago, IL 60660
USA

Discover how food shapes culture and how conflict shapes food. In this six-class series, we'll explore how iconic dishes from cultures around the world—from Burma to Ethiopia, Syria to Haiti—were created or affected by social or political unrest.
Proceeds fund Peterson Garden Project cooking and gardening summer programming for Camp GirlForward, dedicated to creating and enhancing opportunities for girls who have been displaced by conflict and persecution.
DESTINATION #1: Middle East
Hummus is central to many Middle Eastern tables, but it's more than just a dip for pita. Come learn about the history and regional variations of this delicious dish, plus learn to make a perfect hummus. We'll also share how to incorporate hummus into other dishes like pastas and soups. At the end of class, we'll sit down and share the meal we created.
Hands-on, BYOB.
Feast of Resistance Series:
May 25 – Middle East
June 8 – North Africa & Ethiopia
June 22 – Southeast Asia & Phillipines
July 6 – Haiti
July 20 – Nepal & Burma
August 3 – West Africa & Cape Verde
ABOUT THE INSTRUCTOR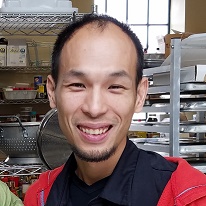 Originally from San Francisco, California, Chef Alvin Yu has spent a large portion of his life in the kitchen. Growing up in a large family, he was amazed at how his aunts and uncles could produce plentiful amounts of high-quality food for twenty to thirty people in a few hours.
These experiences inspired Chef Yu to pursue learning everything there was to know about the culinary arts. In 2005, responding to the urging of well-fed friends and family members, he started Fyusion Dining*. Chef Yu eventually developed a vision of dining that culminates in a feast for the senses and an exploration of the limitless diversity of the culinary world.